July 19th Catalog Auction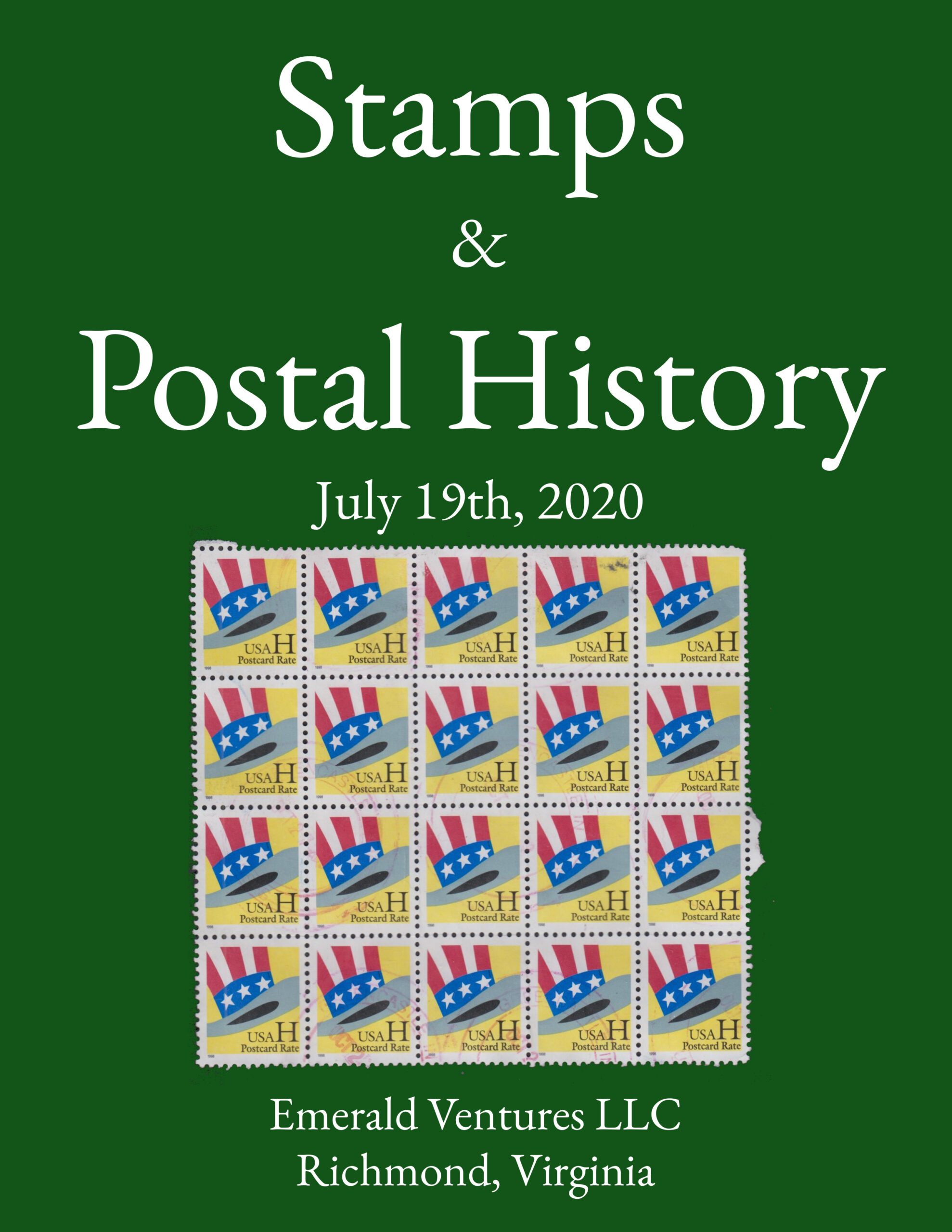 Welcome to our July 19th, 2020 Featured Auction. We have been working hard to present a catalog of high quality US & Worldwide Postal History and Stamps, and we think you'll be pleased with the results. If you've been participating in our weekly auctions every Sunday at 6 PM EST then you will find the bidding format familiar, however due to the higher than average number of lots we will begin closing lot 1 at 1:00PM EST.
Bidding on most lots will begin at $20. For current bids as well as photographs of all lots and approximate ending times please visit the Auctions tab on our website www.evstamps.com. We will again extend bidding time if there are bids within the final minute to prevent sniping. Please register to bid on our website. While there you may also watch lots, view our other auctions and again see thousands of pictures. We will also take bids by mail, phone, Stamp Auction Network, or email. However, the only place for accurate current bids and live bidding on the 19th will be our website, www.evstamps.com
In perhaps the most difficult year in a lifetime, stamp collecting continues to thrive as a hobby that can bring people together. We've noticed a great deal of interest in online stamp sales, and while some of that is from displaced sales from shows and stores, we've had a number of customers who are either new to the hobby or returning from a long absence. We're excited to welcome everyone to this hobby, and we hope it will continue to grow.
Speaking of growing, this is our largest auction in over two years and we are so excited to offer the following to you:
German Postal History including Zeppelin Covers, WWII groups & a fascinating run of Concentration Camp prisoner letters & parcel post receipts
Certified Worldwide scarce to rare items from German States to Russia #3 & #4
CSA Imprint, Turned, & Adversity Covers plus position pieces, blocks and more
US Postal History has 2 covers featuring pairs of #1, a pair of #2 on cover, many other 1847-1861 issues, a strong run of Civil War Patriotic Covers and a true showpiece; an absolutely incredible group of Spanish American War Patriotic Covers, unseen for over 20 years
US Stamps is heavy on 19th century classics with loads of high values including a mint OG #38 block of four, a MNH #505 graded PSE 95, a complete set of C13-C15 Plate Blocks and the first time to market for three multiples of the Unissued Yellow Hat including the largest existing used block of 20
On a personal note, we are here every day because we truly love what we do. We want to thank all of you for being our customers, please let us know if you have any questions, and please stay safe!
Visit the Auction by clicking here
And view the catalog by clicking here (may take a few minutes to download)
---